We're backing the Don't Trash Oldham campaign and tackling fly tipping hotspots
---
---
We're supporting Oldham Council's Don't Trash Oldham campaign and taking action to tackle fly tipping and waste hotspots in neighbourhoods across Oldham.
We have launched three schemes to clamp down on culprits who dump rubbish in public spaces in Coldhurst - Clarkwell; Eldon Street; Derker; and Holts. They will be in operation Oct-Dec and if successful we will roll them out to other areas to help make fly tipping a thing of the past.
"We're 100% behind the Don't Trash Oldham campaign. No one should have to put up with rubbish dumped in their area. It's not only unsightly, unpleasant and a nuisance for our customers and local people, but it can be a health and safety risk too," says David Wrigley FCHO Head of Neighbourhood Care. "We know how important it is to customers that their neighbourhoods are looked after and flytipping has been highlighted as an issue in a number of specific areas which is why we are leading on our own initiatives and also working with Oldham Council to take action."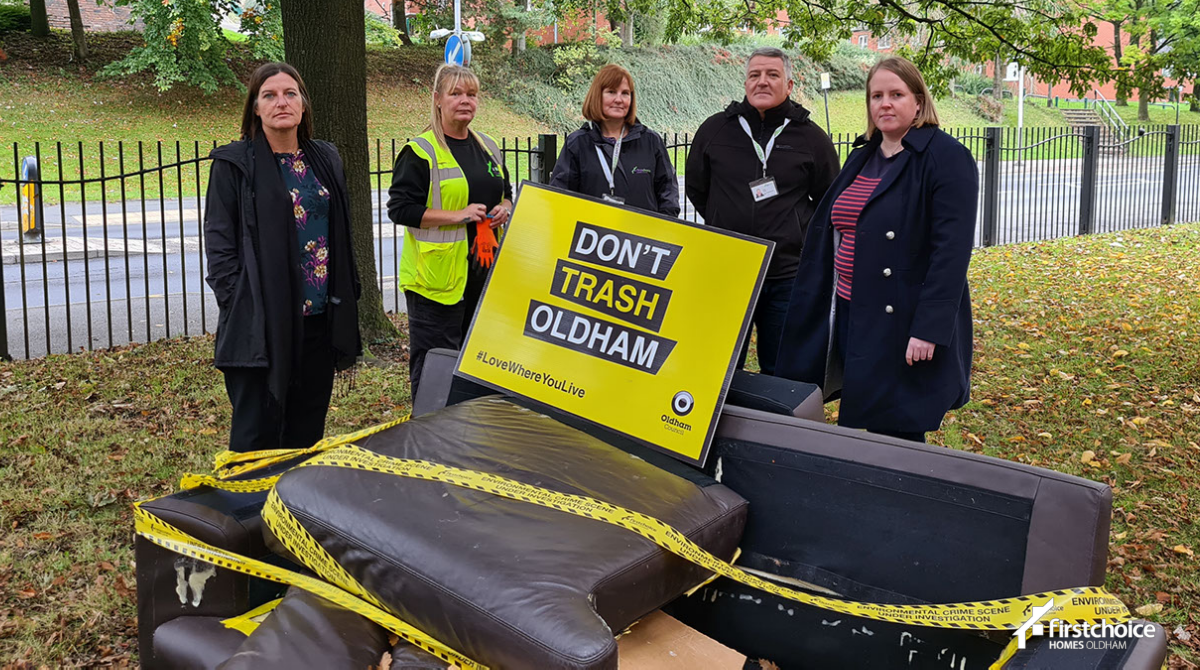 In a bid to put the spotlight on fly tipping and encourage customers to report any waste that has been dumped in the area, we are turning fly tipping into environmental crime scenes in the Coldhurst - Clarkwell area. The design of bin stores in the Eldon Street neighbourhood are being reviewed and increased recycling points are being put in to reduce litter. In Derker and Holts, additional collections and a pilot paid-for waste collection service are being trialled to help clean up the areas.
We investigate all incidents of fly tipping in your neighbourhoods. Those responsible for illegally dumping waste risk a Community Protection Warning and a £135 fine, plus a recharge for the cost of removal of the waste starting at £132.
Mr Wrigley added: "Fly tipping costs FCHO over £250K per year to deal with – putting pressure on our services and diverting money and resources away from other important areas.
"If you see incidents of fly tipping in your neighbourhood – please report it to us. We can't deal with it if we aren't aware of it. If fly tipping is not on FCHO property or land, please report it to Oldham Council.
"We want to put a stop to fly tipping in our neighbourhoods so our message is clear: dispose of your waste responsibly. If you've got unwanted bulky or large items, please get rid of them carefully. If you pay someone to take away your waste, check they have a waste carriers' licence. If they don't and the rubbish is later found dumped, then you could be the one in trouble.
"Bulky Bob's offers a bulky household waste collection service on behalf of Oldham Council and Oldham's recycling centre at Arkwright Street is open seven days a week, 8am-8pm."
Councillor Amanda Chadderton, Deputy Leader of Oldham Council, said: "We're really pleased our partners at First Choice Homes Oldham are supporting our Don't Trash Oldham campaign and we'd like to encourage others to follow their lead and get behind this important campaign.
"Cleaning up the borough is a priority for the council and FCHO.
"We are determined to make a real difference and improve people's lives and the communities they live in.
"The vast majority of our residents look after their communities but if we are going to make lasting improvements then everyone needs to do their bit and dispose of their waste properly. If they don't then we will take action."
To report fly tipping on FCHO owned land please call us on 0161 393 7117 or email servicecentre@fcho.co.uk.
Find out more about how we're tackling fly tipping hotspots this autumn in this video