Wildflowers bloom across your neighbourhoods
---
---
Have you seen the displays of wildflowers cropping up across neighbourhoods, after we planted wildflower seeds earlier this year? Like this plot in Sholver. We think it's blooming lovely!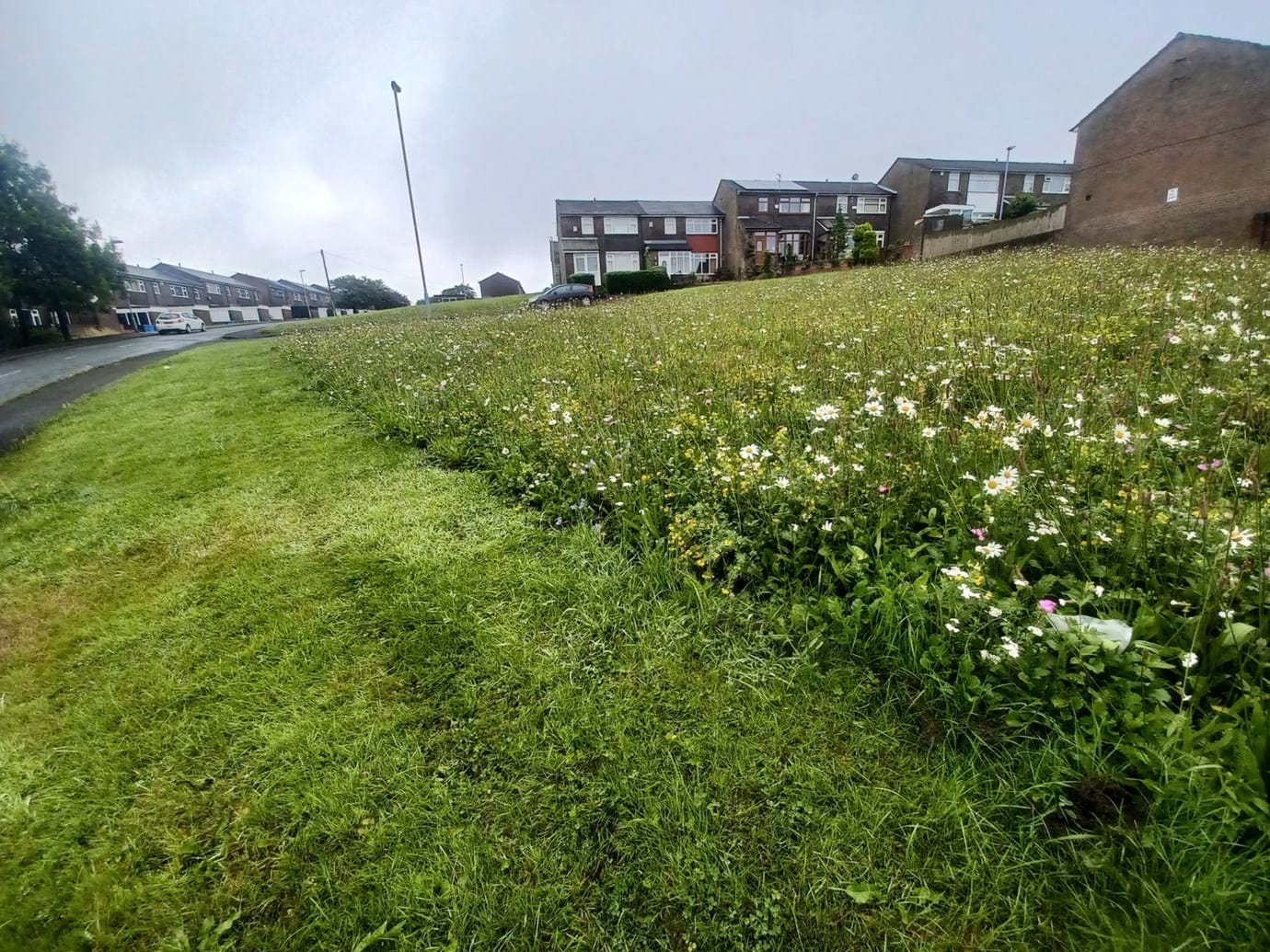 Our Neighbourhood Care team works hard to ensure your local area is a great place to live, and making it more nature friendly is among its priorities, in line with our Sustainability Strategy.

In springtime our team planted 'bee bombs' and a selection of wildflower seeds in six areas across Bardsley, Glodwick, Sholver, Chadderton, Shaw and Royton to create our own zones for flowering plants to grow.

The idea is that bees and other insects that depend on them will flourish and thrive, and local people can connect with nature as the areas grow.

David Wrigley, our Head of Neighbourhood Care says: "Through satisfaction surveys and feedback, customers are increasingly telling us that sustainability and greener ways of working are important to you as we look after your neighbourhoods.

"Wildflower planting is a small change that contributes to our bigger work to reduce our environmental impact and help tackle climate change in our communities.

"It's great to see these wildflower plots going strong and we are keen to build on their success with even more in the future."

If you would like to nominate an area that would benefit from wildflower planting, please contact us and our team will look into it.

Email servicecentre@fcho.co.uk or call 0161 393 7117.

Neighbourhood Care and sustainability
This summer's wildflower plots are among the recent measures introduced by our Neighbourhood Care team to increase its sustainability.

This summer the team has also introduced nature friendly zones in Sholver, Derker, Littlemoor, Royton, Bardsley, Chadderton, Holts, Alt, Limeside and Delph where grass is being left to grow until the end of the cutting season in October. The plots are designed to encourage biodiversity in our neighbourhoods and help limit our carbon footprint.

The amount of land equates to less than 1% of all the grassed areas we maintain. Our team has cut a two-metre strip around the outside of each plot as well as a walkway through the middle for you to use.

Grass cutting in other areas will continue as normal.

Read more about our Neighbourhood Care team.