"I can feed my whole family for £15 a week thanks to FCHO and The Bread and Butter Thing"
---
Pam lives in Levenshulme and can feed herself, her daughter Cat, her son Michael and her grandchild for just £15 a week, thanks to The Bread and Butter Thing (TBBT).
Although she doesn't live in one of our homes, Pam is one of our volunteers who you might recognise from lending a helping hand at our affordable food services, The Bread and Butter Thing (TBBT). Her volunteering journey started when her daughter Cat began helping out with TBBT in October 2020. As time went on, more volunteers from the same household or bubble were needed due to coronavirus restrictions, so Pam and her son Michael decided to help out alongside Cat too, meaning there were three pairs of hands all from the same household able to offer support.
Between the three of them, they volunteer two days a week in Oldham and are flexible and willing to help wherever it is needed. They usually volunteer at our Wallshaw St service on Mondays and will now be regularly helping out at our newest TBBT Hub in Royton on Wednesdays.
Volunteer Pam also uses the service to feed herself and her family, and can feed up to five people for the whole week from one service alone, only picking up the occasional bottle of milk or loaf of bread if necessary.
Pam says: "I usually work as a sign language interpreter but I'm furloughed at the moment due to coronavirus and the lack of face-to-face contact taking place, so that's why I started volunteering. I really enjoy going because it gives me something to do, but it also gives me access to amazing, high quality food which is enabling me to feed my whole family for as little as £15 a week!
"I just can't believe the quality and quantity of the food you receive and financially, it's saving me so much money each week. Not only that, it's reducing waste and allowing me to create a variety of healthy meals for my children and grandchild too, so it really is a win-win situation."
Some of the delicious recipes Pam has created using ingredients from TBBT include:
Chicken and vegetable curries with rice and kebab meat on the side
Steak pies with filo pastry and root vegetables
Fresh fruit salads and cream
Cottage and shepherd's pies with extra fried onions, mushrooms and carrots
Chilled rice salad with sweetcorn, peas and other veg - perfect for lunches
Loads of soups
Although TBBT is exceedingly good value for money, feeding up to five people for as little as £15 a week is no straightforward task, so how does Pam manage it? Here are Pam's top tips on feeding the whole family with TBBT:
As soon as you unpack the bags, have a look what's in there and work out what you can freeze, what will last a couple of days and what needs using straight away. Then you can plan meals for the rest of the week. Forward planning is crucial to make the most out of TBBT
Always have a soup on the go. They are hearty, healthy and make filling meals that last over a few days. Best of all, they're super easy to make and you can chuck anything in there so they work perfectly for TBBT
If you receive big portions of a certain type of food in your service, for example, lots of chicken, cook what you are going to use immediately and freeze the rest so it lasts longer and doesn't go to waste
Be creative and versatile – if you get natural yoghurt in your service, you can have it with fresh fruit for breakfast but you can also add it to curries and soups for a creamy twist
Sometimes you get a pre-prepared pizza in the fridge bag. Chop up some of the other ingredients and use them as extra toppings to really bulk it out. I like adding mushrooms, onions and cheese
Got loads of eggs? Do some baking. You might not be able to eat eight eggs in two days but you can certainly use them up in a cake. You could also make an omelette or quiche and add loads of veg to it too
Make a quick and easy sauce using the fresh veg and have it with meat and dried pasta for a hearty, filling dish. Pasta releases energy slowly so it will really keep you going
If Pam has inspired you and you would benefit from accessing TBBT please get in touch with our Community Impact team by emailing CommunityImpact@fcho.co.uk or calling 0161 393 7117. Please note, our services are for FCHO customers and/or volunteers only. TBBT host separate services across Greater Manchester if you are not a tenant of FCHO – find out more on their website.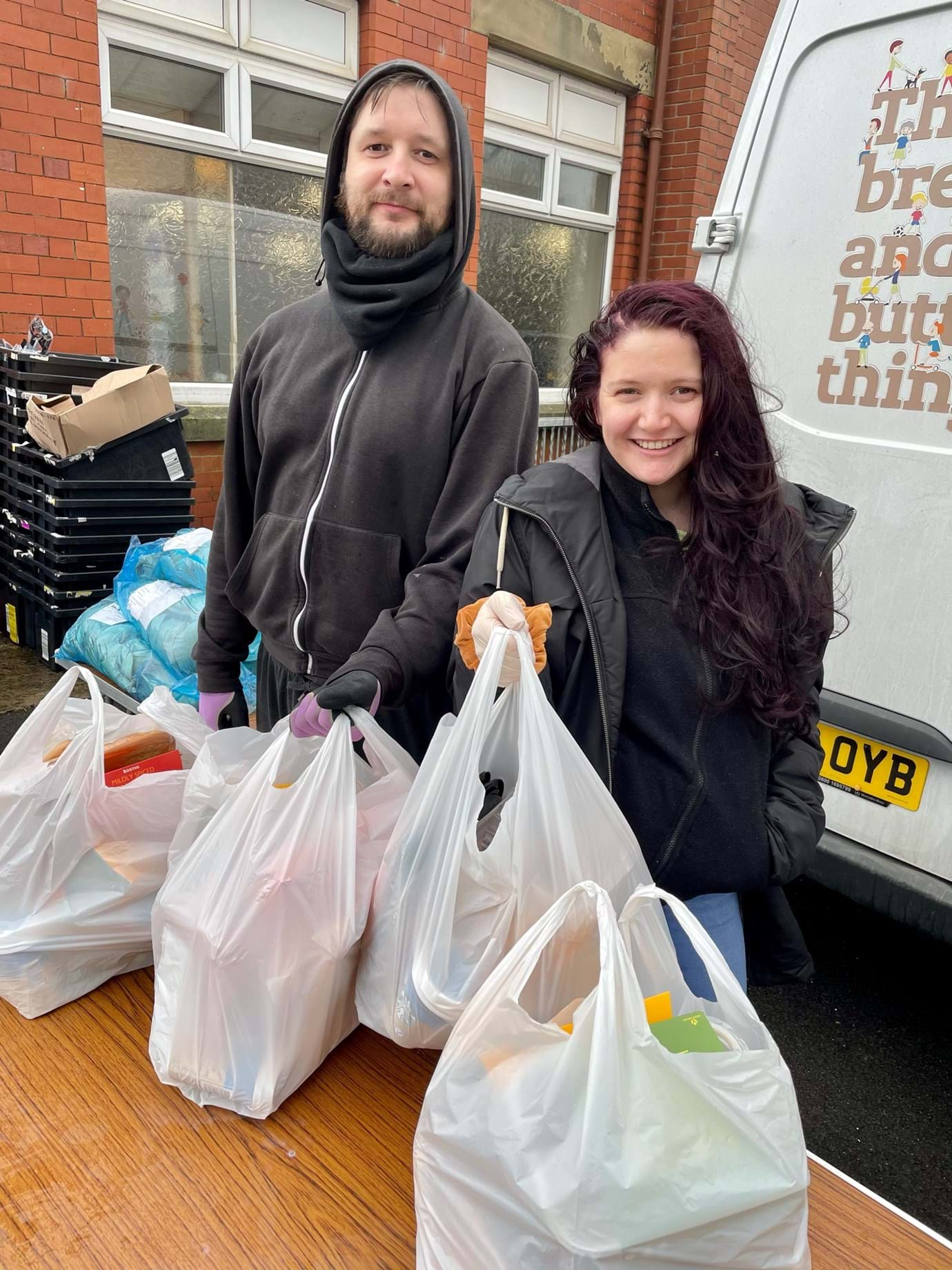 Pam's children Michael and Cat volunteering at TBBT in Royton