---
---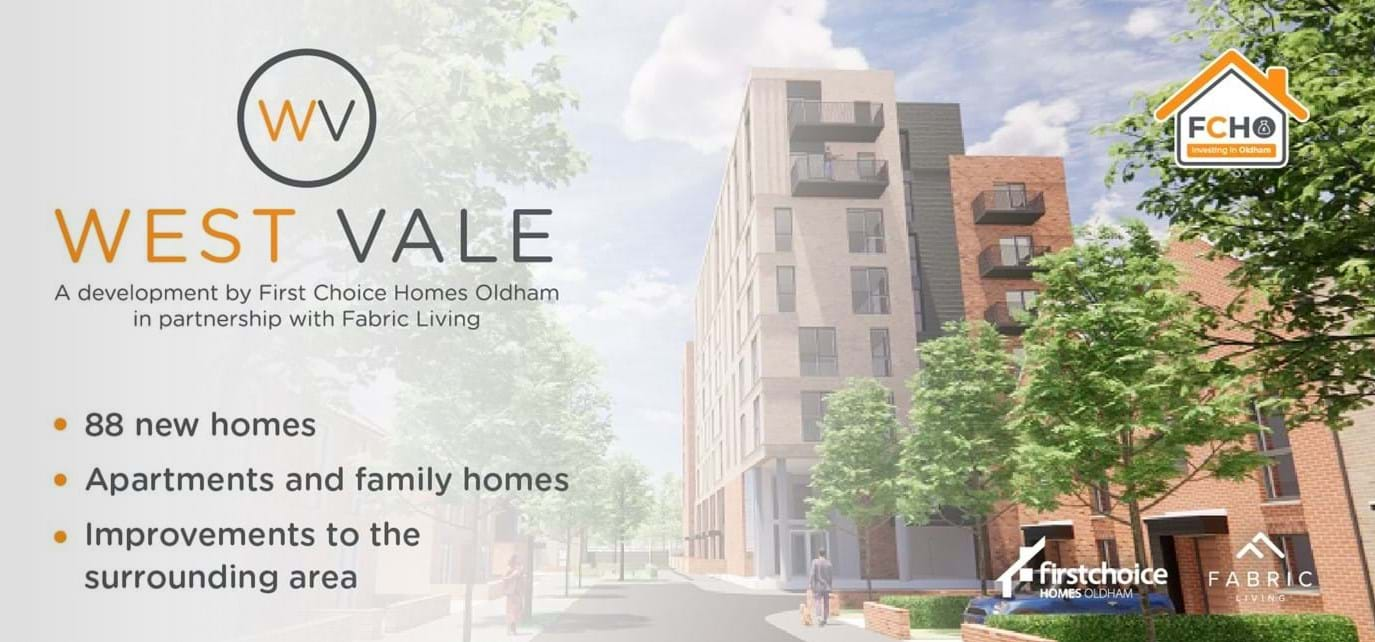 Vision
Located close to Oldham town centre, West Vale is set to be our new development right in the heart of Oldham. It will provide a range of high quality, affordable new homes in a vibrant neighbourhood where people, families and businesses can thrive.
Homes are being designed to meet the needs of people across Oldham and will range from one bedroom apartments to family homes. All will be economical to run and incorporate energy efficient design features making the development fit for the future of our town.
West Vale will be a gateway to Oldham and is in a prime location for residents, with easy access to nearby amenities, Oldham Town Centre's shops and services and the local transport network.
The development is part of our plans to build 1,100 much needed new homes for people over the next six years.
Housing mix
26 houses - two, three and four-bedroom family homes.
62 one and two-bedroom apartments for affordable rent.
Properties for rent will be allocated in line with Oldham Council's Allocations Policy
Tenure
Homes will be a mix of:
Houses for shared ownership under our Fabric Living brand, helping local people to get a foot on the housing ladder at an affordable price.
Apartments for affordable rent - set at no more than 80% of the average local market rent.
Partners
Main contractor: Caddick Contractor
Sustainability
All homes will be off gas, with a high energy performance rating, and use latest sustainable technologies including air source heat pumps and additional insulation to help residents save energy and money
Amenities
Landscaped green spaces and a recreational zone with dedicated play area, providing a much-needed facility for younger children in the neighbourhood
Generating social value through the West Vale project
We will be generating social value benefits throughout the new-build phase, creating training opportunities for local people over the life of the contract and adding further value by maximising local supply chain partners and carrying out wider community engagement.
Our Development Strategy
Our West Vale development is part of our £160m plan to deliver 1,100 affordable, modern, sustainable homes in Oldham and surrounding areas 2020-2026 to help meet housing need and improve the lives of local people.
---
This gallery reflects views of what the homes and area may look like:
Latest updates on our West Vale project
---
---