Our customers save hundreds on household items amidst pandemic, thanks to partnership with The Bread and Butter Thing food charity
---
---
Our most in-need customers have been able to purchase brand new household items and gifts for a little as 50p at a special one-off 'jumble sale'.
The jumble sale, which took place on on Wednesday 14 October through our partnership with Greater Manchester-based affordable food charity, The Bread and Butter Thing (TBBT), saw customers pick up a variety of consumer goods ranging from cleaning items, kitchenware and pet food to gift sets, children's toys and cosmetics at the Sholver and Moorside Community Centre.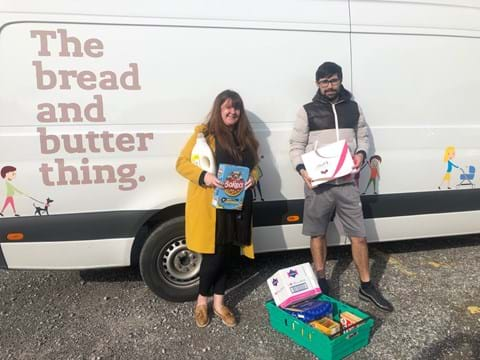 We partnered with TBBT in 2019 to create an affordable and sustainable food service for our customers. For just £7.50 a week, eligible customers can buy three bags of food worth at least £35. As well as food, companies such as Amazon, Morrisons and Proctor & Gamble often donate items to TBBT which allows them to hold one-off jumble sales for their users.
Rachel Reid-Fernandez, Operations Manager at The Bread and Butter Thing, said: "We receive lots of other goods as well as surplus food donations, which we felt we couldn't simply place into our members' weekly food bags so we made them available through 'jumble sales' and our members love it.
"We've managed to work with our partners such as FCHO to put measures in place so we can continue holding jumble sales safely while coronavirus is ongoing, which is just as well as they are proving so popular – we can barely keep up with demand."
The food charity has also entered a six month partnership with Morrisons, and through this have received a donation of almost 1 million period products from leading UK period brands, Bodyform and Always – some of which were available at the jumble sale too.
Rachel added: "Millions of women on low incomes struggle each month to afford period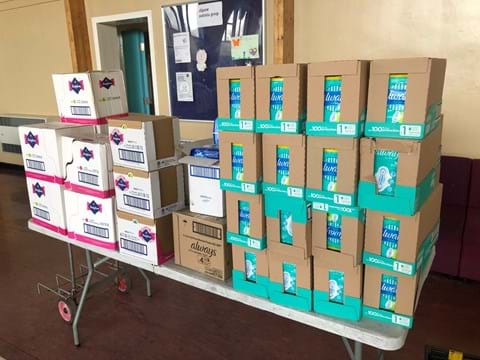 products. It's estimated that it costs the average woman £4,800 over the course of a lifetime, which puts the monthly cost of having a period between £10 - £11. For those on a low income, finding £10 can be a real struggle, so initiatives like this are a huge help."
Dave Brereton, Community Impact Manager at FCHO, said: "The impact on our customers is brilliant. Not only are we supporting them with their weekly food shop but they've now been able to purchase other household items too, which are often quite expensive.
"With Christmas around the corner and many people feeling the financial constraints that come with this time of year, combined with the added pressures of coronavirus, the timing of our first jumble sale couldn't have been better and we're delighted to be able to make a difference to the lives of our customers this way."
If you are one of our customers and feel you would be eligible for our TBBT service, get in touch by emailing servicecentre@fcho.co.uk