North West social housing tenants come together to speak out on tackling climate change
---
---
Today is an important day for social housing tenants from across the North West – including three of our customers from here in Oldham. A jury of people who live in social homes has come together to publish new advice on tackling climate change in their homes and neighbourhoods.
The first of its kind, the Social Housing Tenants' Climate Jury saw 30 social housing tenants from across the North of England come together to discuss how climate change impacts their lives. It makes recommendations on how tenants, social housing providers, and others could work together to tackle climate change in their homes and neighbourhoods.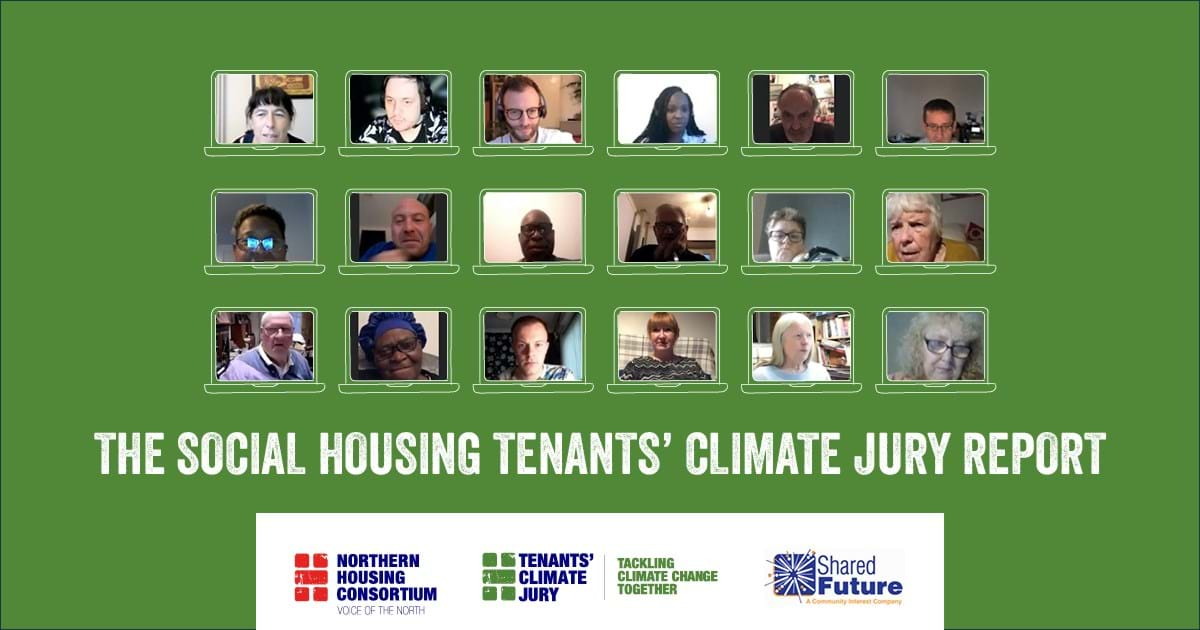 The overarching theme of the Jury was to explore how to tackle, in homes and neighbourhoods, the incredibly challenging and complex issue of climate change. The jury's recommendations underline the sense of urgency felt by the group on the need for action. The tenants' work also offers suggestions as to how communication with tenants can be made more honest and transparent, how the social housing sector can be upfront on the costs of and potential disruption caused to tenants by retrofit, and the value placed on collaboration across the region.
Homes account for around one-quarter of the North's carbon emissions. To meet the challenge of reaching net zero carbon emissions, over one million social rented sector homes across the North will need green upgrades.
The percentage of carbon emissions coming from homes is even higher in the North West at 28%, and work to replace older systems with new ones (known as retrofitting) will be required to the vast majority of the region's 588,343 council and housing association homes.
Among the people taking part in the Social Housing Tenants' Climate Jury is our customer, Rob Curtis. He said: "When I received the letter about the Climate Jury I knew I wanted to apply to be part of it. As a household, we're interested in climate change. Retrofitting homes to make them more energy-efficient and building greener new homes is really important to me. In the last 30 years, I've seen so much change and damage to our planet, we must find new ways of doing things if we want to tackle these issues for current and future generations.
"I've got a lot out of the jury sessions; it's been interesting to listen to views and perspectives of the speakers and tenants of other housing associations, and I've learned about new technologies like ground source heat pumps. There are lots of solutions out there that can help make a difference to us and how we live in our homes, and it's great that the jury is getting involved and sharing their views. I'm looking forward to hearing the group's final recommendations and where that takes us."
The Social Housing Tenants' Climate Jury was commissioned by the Northern Housing Consortium in partnership with us and four other housing associations: Karbon Homes, Salix Homes, Thirteen Group, and Yorkshire Housing.
The jury's top ten most popular recommendations
There is a need to take into account the urgency of the issue of climate change, and installation programmes need to be quicker.
Housing associations need to work with contractors to ensure work is completed to the highest standard. An independent person or body to be appointed as a point of contact for tenants, to provide oversight to work, to hold parties to account & mediate any issues.
Because retrofit could be very disruptive, tenants need to have clear and timely information about timescales and cost.
The best quality of technology should be used.
Housing associations need to ensure good communication with tenants before, throughout and after any work carried out.
Housing Associations should collaborate with each other and Local Authorities, and other agencies.
Raise awareness with everyone in our communities about how we can tackle climate change through a range of communication channels. Communication must use clear, accessible language at all times.
People in care homes, older and vulnerable people should be made aware of what is happening. Good, clear information should be provided in a format they can understand.
Housing Associations should employ a local dedicated person to work with the community to open the community centres and develop the green spaces -ensuring that people are more informed about the spaces, having a more connected approach and access to the facilities.
The housing associations should be proactive in training and employing their own skilled workforce necessary to complete the work within timescales by 2050 and to allow for any repairs and replacements.
Tracy Harrison, chief executive of Northern Housing Consortium, said: "We brought together a group of 30 tenants from across the North of England to put their voice right at the heart of the debate on one of the biggest issues we face as a society. It was a rigorous process designed to ensure fairness. Tackling climate change will require big changes to homes and neighbourhoods - through the Jury process, social housing tenants have given clear guidance on what they want to see happen in what are, after all, their homes and neighbourhoods.
"We are hugely grateful for the support of our partner housing associations, but most of all to the Jury of tenants who have created these substantial and important recommendations."
Read the Social Housing Tenants' Climate Jury report