FCHO showcases energy efficiency improvement work
---
---
Our Assets team was delighted to host Brian Robson, Executive Director (Policy & Public Affairs) at the Northern Housing Consortium and Debbie Abrahams MP for Oldham East and Saddleworth recently, to showcase our work to improve the energy efficiency of local homes and hear from customers who have benefitted from green upgrades.
The group visited the Lees neighbourhood to see properties which have recently undergone improvement work as part of our retrofit pilot project, as well as the first phase of our decarbonisation programme which we're delivering with contractor, Connolly Ltd.
They also took the opportunity to hear about our plans to boost the energy performance of many more homes over the coming years.
In delivering this crucial work we can deliver important benefits to our customers, futureproof our neighbourhoods and achieve the sustainability targets in our Big Plan and Sustainability Strategy.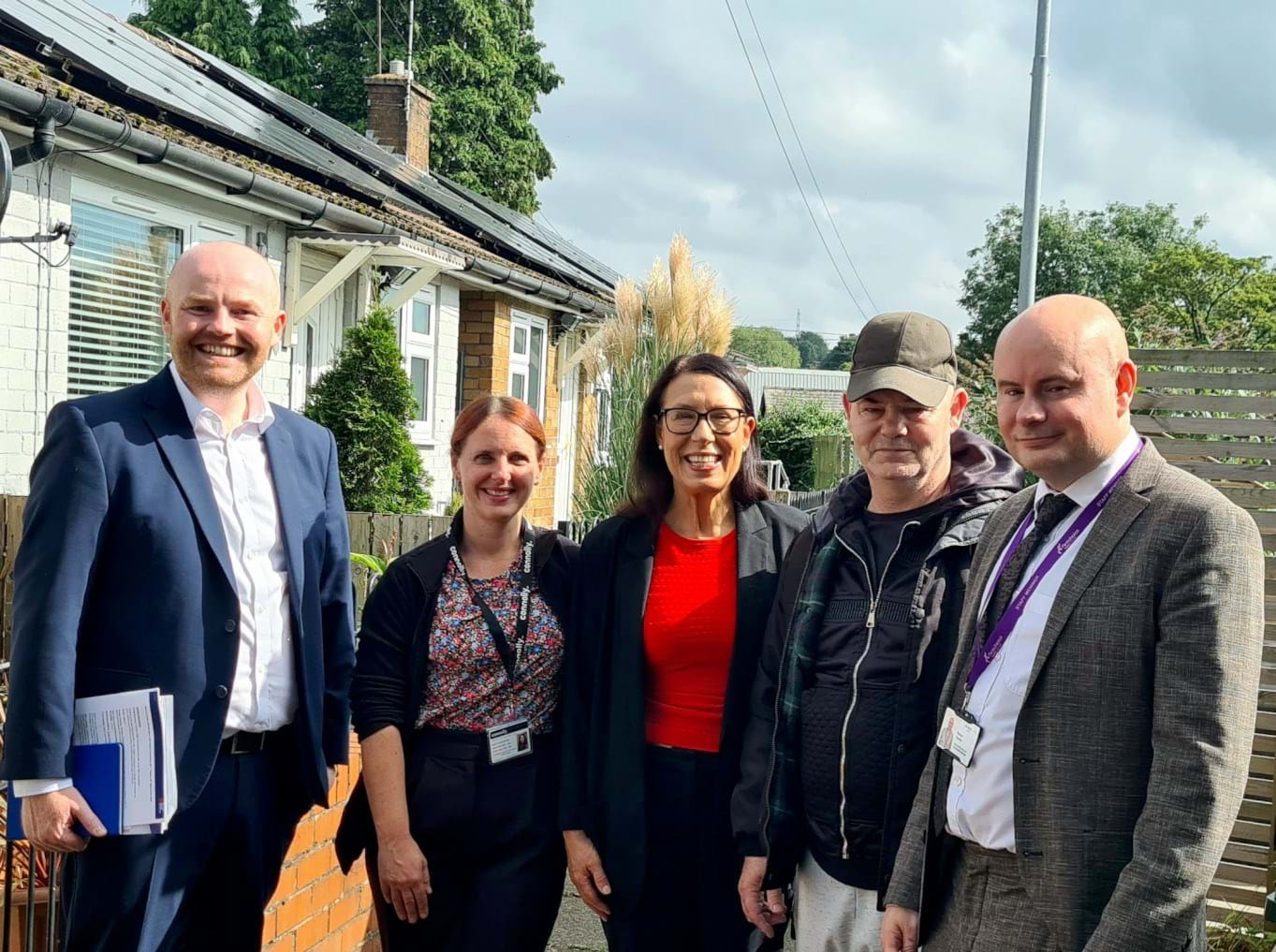 On the day it was fantastic to hear from customer Anthony, who says that improvements carried out at his home – including cavity wall and loft insulation, triple glazed windows and doors and solar panels – are helping him to save energy and money and have made such a difference:
"The solar panels are great – some days the smart meter hardly moves and it's keeping my payments down. The triple glazing is amazing; it's so quiet now, where it was noisy before, and I feel safer too," Anthony explained.
"Overall I feel like the heat stays in my house and I haven't needed to have it on as much. This work has changed my life completely," he added.
Anne McLoughlin, our Interim Chief Executive said: "It was a privilege to welcome Brian and Debbie to talk to them about our work to make our homes and neighbourhoods greener places to live and to hear from our customers who are on this journey with us.
"We're always looking at that balance between investing in our existing homes and building sustainable new ones. We're doing the best we can to make really good choices, and we do that by working with our customers and listening to what their priorities are. We are proud of our retrofit work to date and look forward to delivering improvements to more homes to meet the net zero challenge.
"With more government support behind this work, we would stretch every pound that we receive and put it into capital investments and I hope that in the future that will come, and help us at First Choice and other housing associations.
"Housing providers like us are the best vehicle for reducing the carbon footprint that comes from homes and improving energy efficiency of properties, working together with our customers. This not only makes bills cheaper and homes warmer but ensures customers have high quality places to live, now and into the future."
Reflecting on the session, Brian Robson said: "Green home upgrades are delivering real change to homes across the North, cutting carbon, and delivering lower bills, warmer homes and good green jobs.
"It was great to see this in action at Lees, where First Choice Homes Oldham have clearly made a real difference to residents' lives. It was also good to discuss with Debbie Abrahams MP how we keep this progress going, ensuring that more homes in Oldham, Greater Manchester and across the North benefit from this kind of work.
"The NHC is calling for a coordinated £6bn a year investment from government in home energy efficiency across all tenures, so together we can deliver more real change to real homes."
Debbie Abrahams MP said: "It was fantastic to hear first-hand from residents on the improvement adaptations like solar panels and triple glazing have had. Both in terms of their quality of life and on their bills during the cost of living crisis
"This visit highlighted the importance of retrofitting homes, helping to save households hundreds of pounds a year and create good local jobs. As well as lowering costs, adaptations like those I saw help protect the planet for future generations by lowering the carbon footprint of homes."