Coldhurst gets the Community Waste Collection Day treatment
---
---
Flashback Friday to when our Coldhurst neighbourhood got the Community Waste Collection day treatment earlier this week. Big thanks to everyone who got involved to make it a success!
Our Neighbourhood Care and Neighbourhoods teams are all about making our neighbourhoods great places to live and they organised the session to support customers to get rid of bulky household items and help spruce up the streets.
Contractor Connolly, which is delivering investment work in customers' homes this year, sponsored free-to-use skips at two locations, while Oldham Council colleagues  joined in to provide advice to residents about bins and recycling, and volunteers litter picked their way around the area.
Wardrobes, beds, old toys and a washing machine were among the items that residents disposed of in the 16 yard skips on Sunfield Road and Lower Edge Avenue.
Take a look behind the scenes.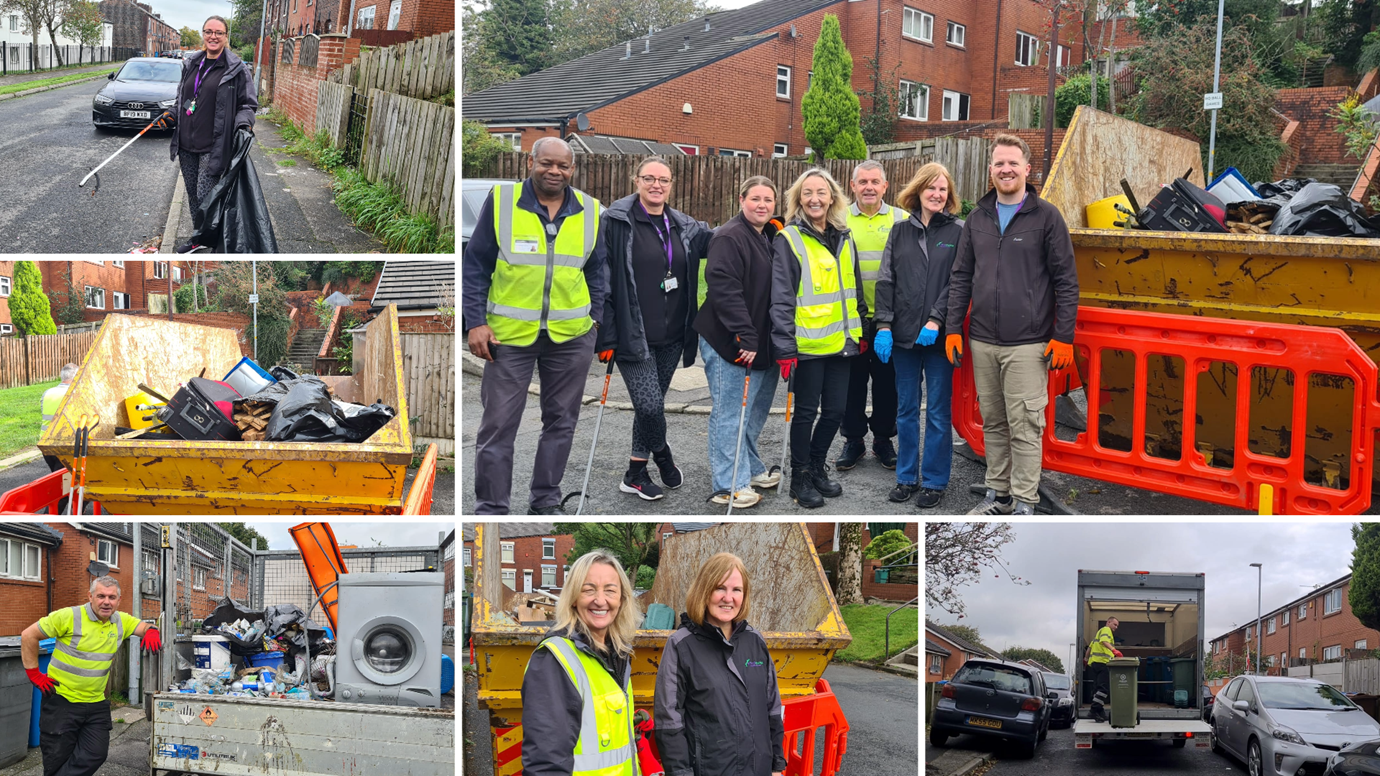 David Wrigley our Head of Neighbourhood Care said: "Waste collection days like this one in Coldhurst are part of our programme to tackle waste and fly tipping in our neighbourhoods – issues that local people tell us matter to them.
"We've worked with partners to give residents a helping hand to get rid of unwanted items, engaged with households to talk about managing waste and carried out a litter pick all to support the area. Now we're asking locals to do their bit to help keep the neighbourhood looking good."
Our strategy to tackle waste and fly tipping in neighbourhoods
In autumn 2022 we launched our new Waste Management Strategy to tackle the amount of rubbish that affects our neighbourhoods and pledge our support for Oldham Council's Don't Trash Oldham campaign.
On a rolling programme until March 2025 we are targeting places where litter and fly-tipping are causes for concern. We're arranging community litter picks, waste collection days, engagement activities to promote good recycling habits and improving bin facilities at communal blocks of flats.  Following this work, we are asking customers to play their part in keeping their neighbourhood looking good.
Look out for updates on our website to see when we'll be coming to your neighbourhood.