Celebrating World Food Day 2020 with TBBT
---
---
Food is one of the few examples of something that is classed as an everyday part of life, but at the same time, plays such a big part.
We mindlessly pick up a sandwich on our lunch break and shove down our breakfast before a busy day, yet in contrast, we place food at the heart of celebrations and togetherness in nearly every culture.
Food sustains us and nourishes us. It provides comfort and joy. It helps maintain our health.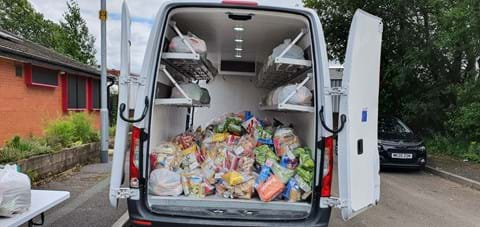 It is powerful. It's been at the heart of global movements, such as the recent rise in veganism and arguments for plant-based diets to help curb climate change, and used to lobby governments for Fairtrade products to ensure fair wages and sustainability for those in the food industry across the world.
Food is a necessity, not a luxury, but for some people this is sadly not the case. In lockdown, foodbank use soared and our Community Impact team and volunteers have been working tirelessly to ensure our affordable food service, The Bread and Butter Thing (TBBT), has been able to carry on operating – even completing our very first home deliveries to some of our most vulnerable customers.
We're immensely proud of our partnership with TBBT. In August alone, our customers collectively saved £23,812.50 by using TBBT, averaging £33.12 per customer per week and working collaboratively with TBBT has allowed us to engage even more customers onto our support service.
As this figure shows, TBBT is not just affordable food; it's improving people's lives as a whole. But don't just take it from us, listen to what our customer Lydia has to say about the service…
So, this World Food Day, we're asking you to give a little thought about how initiatives like this really change people's lives. If you would benefit from the service or you know one of our customers who would, please get in touch with our Community Impact team by emailing servicecentre@fcho.co.uk