Best foot forward during lockdown… Walking and talking
---
---
We're encouraging our staff to lace up their trainers and get outdoors, not just for lockdown exercise but to host meetings!
We want staff to take break from a Skype, Zoom or coffee shop meetings and arrange a walking meeting instead (maintaining social distancing, of course!)
Not only is it a great way of getting out and exercising, which gets your feel good endorphins working and boosts your mood, there's scientific evidence to show walking increases creative output by 60%.
Heidi Thompson, our Executive Director of Homes and Investment, is behind the new initiative. She said: "The wellbeing of our staff is a huge priority and we are constantly looking for new and innovative ways to support them.
"Due to the recent challenges around coronavirus, a lot of our staff are working from home. Many have said they miss social interaction with colleagues, so walking meetings are a great way to meet up, exercise and combine work too.
"I recently held a walking meeting with colleagues from Oldham Collage. The weather was good and I was keen to get away from my desk and get some fresh air so I suggested a walking meeting along the Saddleworth Canal.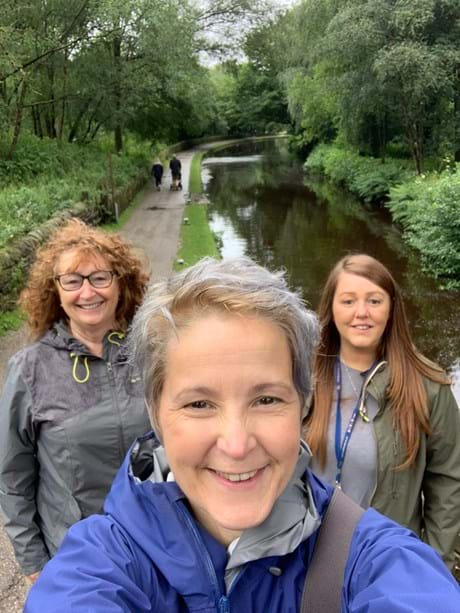 "I can't recommend it enough. It was a great informal way to introduce ourselves, build relationships, create ideas and put in place actions to follow up, all while exercising too! All of us were sold on the idea, feeling it was a lot more engaging and productive than desk-based meetings. We all said we would definitely be doing more of it."
She added, "Apparently, Steve Jobs was a huge fan of walking meetings. He was concerned there were too many people sitting down at Apple so encouraged staff to get up and meet. And if it's good enough for Apple its good enough for FCHO!"
Here are five tips for walking meetings:
Stick to one-on-ones or groups of three
When you're walking side-by-side, it's harder to direct conversation and attention to multiple people. That's why one-on-ones work better, or max three people.
Plan a route
If your meeting is scheduled for 30 minutes, plan a walk that will take that long. Just remember to take into account the fitness of the other person. It's ok to include a 10-minute rest stop on a park bench halfway round if needed. Make sure you know exactly where you're going. You don't want to be distracted by checking directions or getting lost.
Review relevant documents in advance
If you need documents for the meeting make sure they are shared in advance so you can both look at them and discuss if you need to.
Embrace silences
Meetings often get side-tracked because people end up talking just for the sake of it. When you're gathered around a conference table, it feels wrong if nobody is speaking. But silence is often useful. It's time to think, to consider what's been said instead of just responding for the sake of it. Silences are more natural when you're walking because you're both moving.
Follow-up with notes immediately
When you return from your walk, make notes before you get distracted by your inbox, phone and everything else going on in your day. It's helpful to call out these key points during the meeting. Simply saying "let's make sure we remember that" is a great way of ensuring something sticks in your mind. It also encourages more active listening during the meeting.