First Choice Homes Oldham staff and war veteran prove age is just a number
---
---
An unlikely friendship between First Choice Homes Oldham's (FCHO) Becky and 94-year-old Oldham resident Jack has blossomed during the coronavirus outbreak.
The pair, who chat every day, were acquainted when Becky volunteered to become a 'befriender' in the Oldham area with Age UK. The 'befriender' scheme was set up by Age UK Oldham to help combat loneliness and stop local people feeling isolated.
Becky, who works as an advisor in FCHO's Employment Service, was matched with Jack and the pair hit it off straight away - with Jack telling Becky all about his service in India during World War 2 and Becky getting her 9-year-old daughter Caitlin involved.
Becky said: "I call Jack every day at 1.30pm and both my daughter and I really look forward to it. He is so knowledgeable – he knows loads about birds and helps us identify the different species that come into our garden.
"My daughter Caitlin found a bright blue egg shell in the garden and Jack knew instantly what it was – a Starling egg. Today he helped us to work out the difference between a Robin and Bull Finch."
"Chatting with Jack is like soup for the soul – I don't know who's helping who. My daughter and I get as much out of it as he does."
Luckily Jack has been using his laptop for many years already for Skype and Facebook, and despite his age, this has been a great comfort during these many weeks to be able to keep in touch with family and friends.
Through Skype, he is able to see and have a chat several times a day to his eldest daughter and has regular daily phones calls from family and friend. He enjoys his daily chats too with his new friends Becky and Caitlin.  These chats ease any loneliness now he cannot go out for daily trip to his local shops and weekly visits to Oldham market.
Becky added: "My daughter plays the keyboard and really enjoys performing recitals for him. One of Jack's favourites is 'When the Saints Go Marching In' – so Caitlin got to work learning how to play that for him. It was his birthday last week so we sang Happy Birthday to him too. Jack loved it.
"I've got a very special call scheduled this Friday where Jack, Caitlin and I will be virtually celebrating the 75th anniversary of VE Day together.
"Jack was in Poonar, India when they announced the end of the Second World War. He was stood on a car park and remembers mass celebrations erupting all around him. It's so moving hearing his tales. He's a real-life war hero."
Jack said: "I really enjoy our calls. I am so grateful every time Becky phones me and it feels like I've known her for years.

"She's so easy to talk to and really brightens up my day."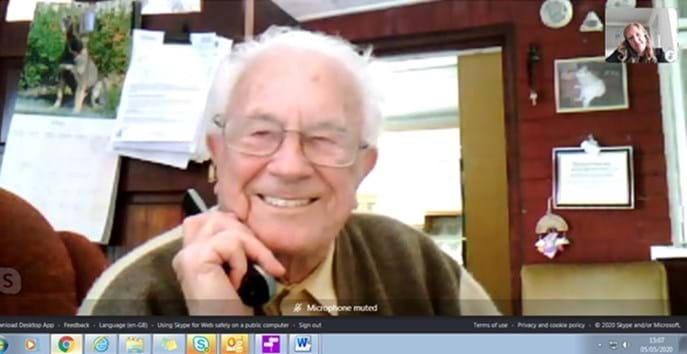 Becky and Jack on Skype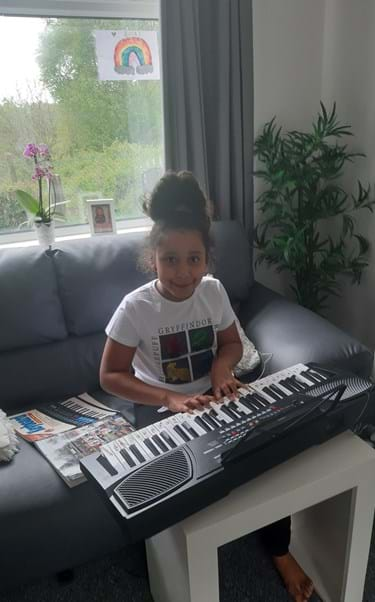 Caitlin practising the keyboard for her next recital