Age is but a number! Danny, star of our Lockdown Porch-traits, shines in winning photo shot by Darren Robinson Photography
---
---
FCHO customer Danzel 'Danny' Coley is the star of a winning photograph taken by talented local photographer Darren Robinson, which has just scooped first place in a GM-wide competition.
The competition, entitled 'Old Frame New Picture' was organised by Greater Manchester Older People's Network, Greater Manchester Ageing Hub and voluntary and community sector support organisation Macc. It was part of the 'Valuable, Not Vulnerable' campaign that aims to celebrate the contribution of older people and to challenge negative stereotypes using accurate and realistic images and stories.
Back in the summer of 2020, we commissioned Darren to capture some of our customers smiling from their doorsteps, so we could have an album of pictures from the 'year we stayed at home' and could remember this unusual time in history forever.
Darren captured some fantastic shots and it would appear others think so too, as his image of 65-year-old Danny beaming away outside his home scooped first place.
Emma Davison, Executive Director Customer First at First Choice Homes Oldham, said: "We're absolutely delighted that the photograph of our customer Danny has won first place. The competition is an amazing initiative to challenge perceptions of older people in the community and the winning photo of 65-year-old Danny does this perfectly; fully capturing his exuberance and zest for life.
"The image was part of an album of photographs taken by Darren Robinson, which we commissioned in summer last year in a bid to capture lockdown life within our communities. Darren is an extremely talented local photographer and we were over the moon with the shots he took, so this is fantastic recognition for his work too."
Darren commented: "Danny kept saying how proud he was to have been asked to have his photo taken. He is a bit of a character and was so full of energy and enthusiasm - it was great to be able to capture that through this photo."
The photo of Danny will be on display on billboards outside Tesco stores across Greater Manchester. Look out for Danny next time you're doing your shopping!
Find out more about the competition and winners here.
To see the full suite of fantastic Lockdown Porch-traits captured by Darren, visit our webpage here.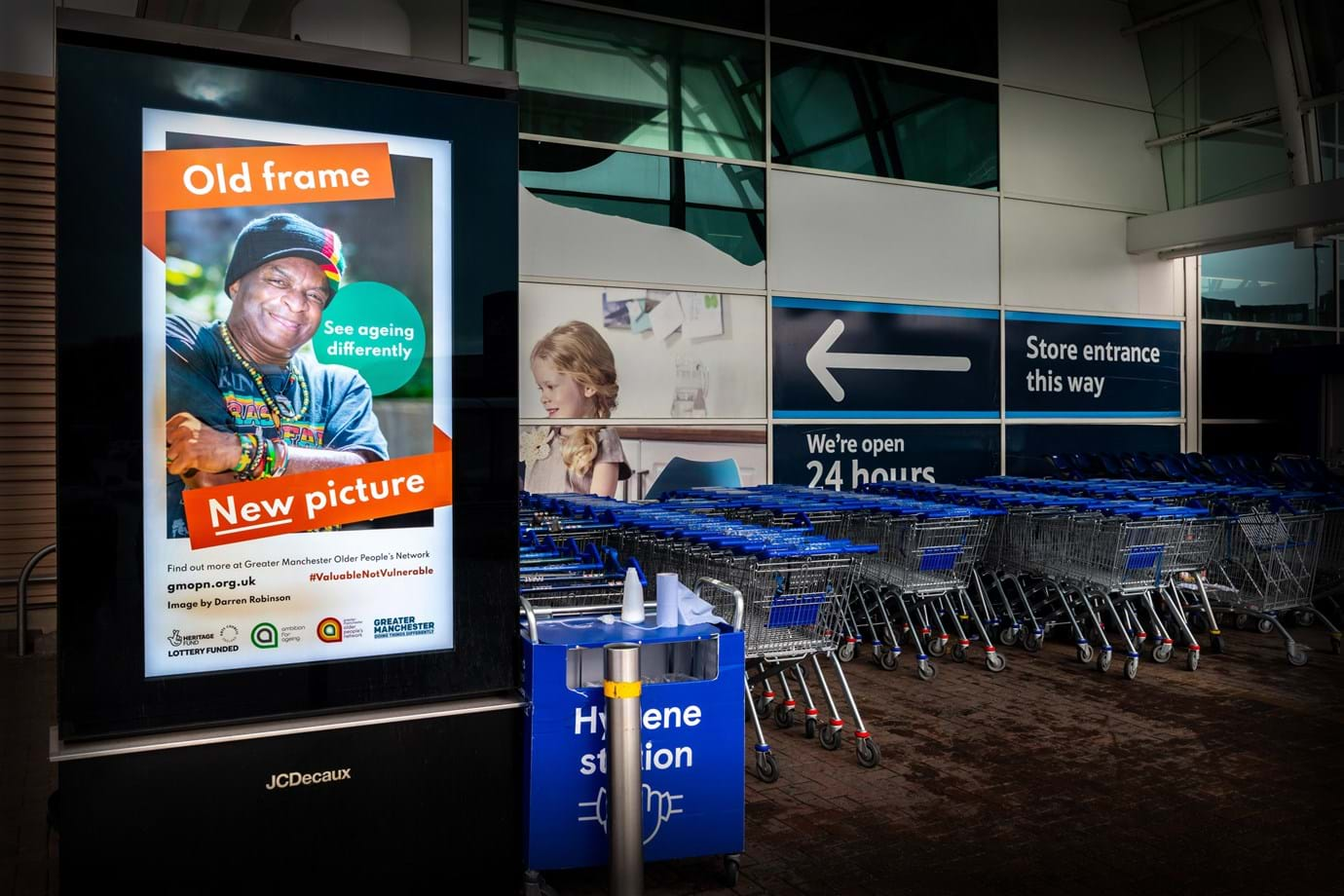 The winning photo of Danny on display outside Tesco, Featherstall Road, Oldham