Winter guide
Stay warm and well this winter
---
---
Check out useful information and advice on this page to help you stay well, look after your home and cut your energy bills this winter.
Please remember, cold can damage your health and your home so making sure your home is heated properly is very important.
If you are worried about your energy bills please get in touch with us to see how we can help make your money go further.
Keep well
Layer up. Wearing several layers of clothes is better than one chunky layer. Items made of cotton, wool or fleecy fibres will help maintain your body heat.
Have at least one hot meal a day and plenty of hot drinks, too.
Be a good neighbour - if you can, keep an eye on others in your area who may be struggling and let us know if you're concerned.
Chuck out sloppy slippers to avoid slips and falls. Wear shoes or boots with good grips and don't be tempted to just pop outside in slippers.
Keep active when you're indoors.
Keep some bottled water in stock and your kettle filled so you can still make a hot drink if your water pipes freeze.
Look after your home
Draw your curtains at dusk and keep doors closed to block out draughts
Work out a comfortable room temperature by turning down the thermostat by one degree at a time until you're happy with temperature. The temperature will always depend on where the thermostat is located in your home.
Turn the heating off or down in any rooms that are not in use.
If you live in a flat and use a communal boiler or meter, try and keep your G6 topped up at all times with enough credit to avoid any potential disconnection to your energy supply.
Spotted an overflowing gutter, gully or grid in very wet conditions? It's completely normal with heavy rainfall and most will return back to normal when the weather eases.
If your gutter, gully or grid is still overflowing or leaking when the rain stops, please get in touch by reporting a repair on My Account
Save on energy bills
The best way to save money on your energy bills is to use less energy. Take a look at our tips and see if you're saving as much energy as you could be.
Set your boiler to 60 degrees for maximum efficiency.
Set your thermostat to 21 degrees. If you turn it up to heat your home quicker, your boiler will work harder and for longer.
Unplug anything with a transformer (those power packs on items like laptops, TV boxes, soundbars etc) as these use power whether you are using the appliance or not.
Take a shower instead of a bath to save on heating water. Keep your shower to four minutes or less to save more energy.
Wash your clothes at 30 degrees, rather than higher temperatures to save around 40% of the energy.
Check out our energy guides for help to get energy savvy, save on your bills and cut your carbon footprint this winter. From understanding your energy bills better, getting to grips with meter readings, knowing how the heating at your home works or getting tips to save energy, they'll give you the information and advice you need.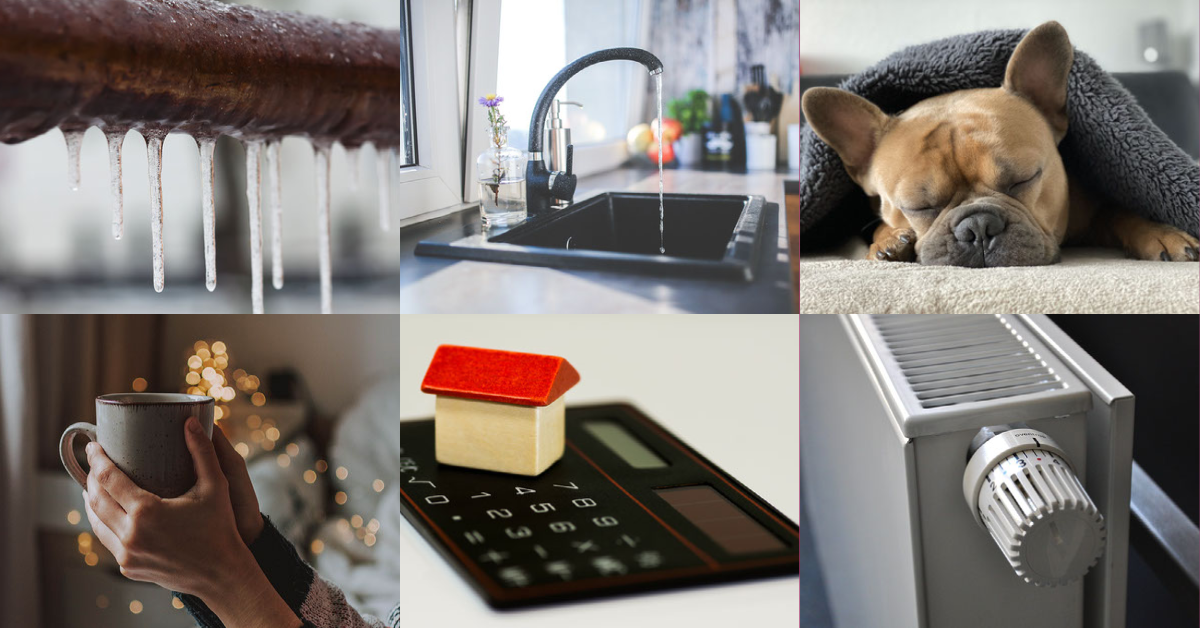 Advice on how to protect your home from the cold
How can I stop my pipes from freezing?
Regularly open cupboard doors and loft hatches to let warm air circulate around pipes.
Keep your heating on low during a cold spell – even if you're away.
Occasionally run your taps to make sure water flows through them.
If you have a hose pipe connected to an outside tap at your home, disconnect it over winter. It's likely to freeze in very cold spells and the ice can back up in the pipe inside your home.
How can I thaw a frozen pipe inside my home?
If you have a frozen pipe inside your home, please follow the steps below to defrost it. Please remember you are responsible for defrosting frozen pipes at your home.
First, turn off your stop tap.
If the pipe is in a cupboard, empty it to allow warm air in and leave the cupboard doors open so air can circulate.
Use a hairdryer set to 'warm' to warm the pipe. After a few minutes, the water should begin to defrost.
Open one cold and one hot tap so the water is running as slowly as possible - a constant drip is enough. This will help to keep water constantly running in the pipes and running water will not freeze.
Boiler not working?
If your condensing boiler stops in very cold weather, the likely cause is the overflow pipe has frozen. This is the pipe from your boiler that leads to the outside of your home.
To defrost a frozen overflow pipe first pour hot water (not boiling water) over the section of pipe that is frozen. Make sure you put a bowl or something similar underneath to catch the water.
Hot water bottles are also very handy to use in this situation. Just fill them up as usual and hold against the frozen pipe. Simply move along the pipe slowly until it has fully thawed.
Once the pipe has thawed, you will need to reset your boiler. Simply press the re-set button once and wait for the boiler to restart.
If you still have no heating after following the advice, call our Contact Centre on 0161 393 7117.
The below video also gives an overview to help defrost a frozen pipe.
I've got a burst pipe!
It's really useful to know where your stop tap is before you have an emergency so locate it in your home. It's usually under the kitchen sink.
If you have a burst pipe, turn off the stop tap quickly to limit the damage and call our Contact Centre urgently on 0161 393 7117.
As well as a stop tap, many of our homes are also fitted with a Surestop (blue switch). This also turns off the water. If you need to turn off the water for any reason, please use the stop tap first if accessible, before using the Surestop.
No water? Check if your neighbours do
If your water stops running, check if your neighbours have the same problem. If they do, the supply pipes may have frozen. Contact United Utilities on 0345 672 3723. You can also see details of current incidents on the United Utilities website.
Need to report another repair?
You can report a routine repair online 24/7 using My Account or call our Contact Centre on 0161 393 7117.
Communal Boilers and Meters
How do I buy Credit?
You should try and keep your G6 topped up at all times with enough credit to avoid any potential disconnection to your energy supply.
To top-up, you can either call the automated payment line: 0333 313 9171, or simply visit any outlet where you see the PayPoint sign with your Switch2 payment card. You can find your local PayPoint outlet and opening hours on their website www.paypoint.com.
Alternatively, you can visit my.switch2.co.uk to top-up online or download the Switch2 Quickpay app for iOS and Android devices.
I've run out of credit, what do I do?
Once you have made a payment by topping up online or through PayPoint, we will be notified immediately and the credit will be applied to your G6 unit within 10 minutes*.
Please ensure that when your credit is running low, that you allow enough time for your top-up to arrive on your G6. This will help you to avoid using the emergency credit facility, ensuring that is available for actual emergencies.
If you cannot top-up your G6 and your credit is about to expire, or you have run out, the G6 has an emergency credit facility. This allows you to 'borrow' credit which will reconnect your supplies for a short period of time. This is simply a loan, and must be paid back in full before the system can be used again.
The emergency credit facility becomes available to activate when your credit value reaches £1.00 or less. To activate, press the blue button marked 'Press For Em Credit'.
PLEASE NOTE: This should only be used in emergency situations where you cannot top-up before your credit is due to expire.
If you live in a communal heating area, we also have a helpful guide from Switch2.
---