West Vale consultation. Have your say on our plans!
---
---
Our consultation is now closed.
Thank you to everyone who took part in the consultation. We are currently reviewing the responses and will share an update soon.
We've launched a public consultation on plans to redevelop land off Vale Drive, Oldham where the towerblocks, Crossbank House and Summervale House, now stand. In their place we want to build a range of high quality, affordable new homes in a vibrant neighbourhood called West Vale where we want local people, families, and businesses to thrive.
On this page you can find:
details of the consultation process and how you can take part
full details about our proposed plans.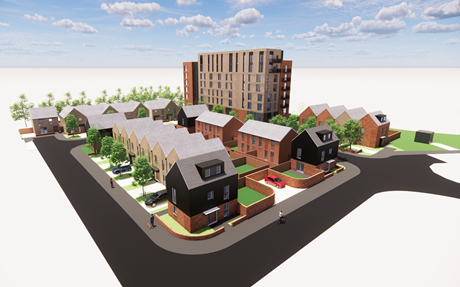 Consultation process
We are progressing with a detailed planning application for our proposed West Vale development. This is expected to deliver 88 new homes on land off Vale Drive, Oldham and improve the wider surrounding area.
Thank you to everyone who has been involved in the project so far – to all of the residents who have fed back their views and for providing your insight and ideas. Your input has helped inform our plans to date and paved the way for the consultation stage. Before we submit them to Oldham Council, we are holding a public consultation on the proposals and we want to hear your views.
Our consultation runs 8-22 Jan 2021.
During this time we are inviting feedback on our proposed plans. Your views are important to us. We want you to help us deliver a new development in Oldham that the whole community can be proud of.
Tell us what you think of our proposals
You can share your feedback by:
Emailing yourviews@njlconsulting.co.uk
Phoning 0161 393 7117
Writing to First Choice Homes Oldham 22 Union St, Oldham OL1 1BE.
If you would like support to respond to the consultation or request documents, please contact westvale@fcho.co.uk or call 0161 393 7117.
Please ensure all feedback is received by Friday 22 January 2021. All feedback received will be logged and reviewed to help shape the final plans before an application is submitted to Oldham Council.
We look forward to hearing from you!
Proposed plans for our high quality West Vale development
We have got exciting plans for the proposed West Vale development and making sure they feature the right design and layout is crucial. We want to hear your views on how we can achieve this.
The proposals will deliver:
A high quality scheme of 88 new homes
A range of property types to meet the needs of local people, from apartments to larger family houses
Sensitive and well-designed spaces that reflect the commitment to high quality development
Landscaping across the site, with each dwelling benefitting from well-sized gardens
Access from Vale Drive and efficient internal road layout to allow easy navigation within the site
Car parking - 100% for the dwellings and 10% for the apartments with 100% cycle space provision across the site
An off-site open space located at Broome Street with an equipped play area for the local community.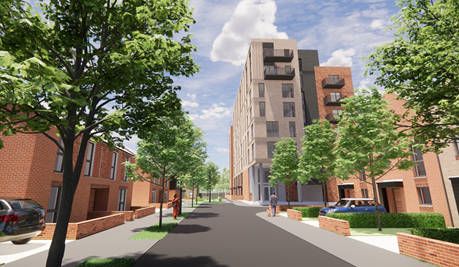 Below you can find full details about our proposed plans for West Vale. Click on the blocks for information.
The site we propose to develop measures 0.78ha and is where two existing tower blocks, Crossbank House and Summervale House now stand. We had approval granted by Oldham Council in September 2020 to demolish both tower blocks along with 11 bungalows on Fleming Place within Crossbank and Summervale.
Our proposed scheme could deliver 88 affordable residential dwellings and make a valuable contribution to meeting local housing need.
The proposed layout of the housing scheme will create a multi-generational neighbourhood providing a diverse mix of home types and tenures.
The proposed scheme includes:
A seven storey apartment block positioned in the south-eastern part of the site
Traditional housing plots arranged within the rest of the site.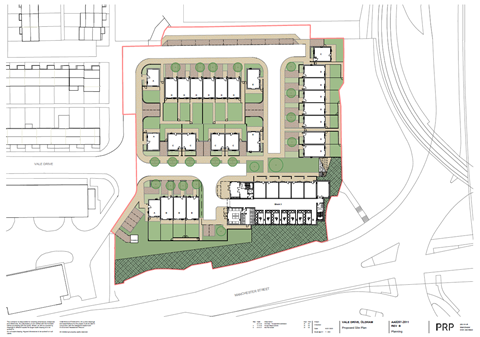 The site forms part of and is adjoined to the Vale Drive estate and has excellent connections to Oldham town centre and public transport links.
The existing bus stop facilities are located along Manchester St, the closest of which is within 50m of the site. The bus services provide regular services to Manchester city centre and Sholver.
The Metrolink stop provides a service to East Didsbury and Rochdale – with numerous stops along the way including Manchester city centre.
The site will retain access off Vale Drive and include an efficient internal road layout to allow easy navigation within the site.
Car parking will be provided on-site. All spaces will be disabled parking spaces:
Parking will be available for 100% of dwellings
Parking will be available 10% for the apartments
Cycle spaces will be available for all properties.
Enhanced landscaping and amenity space will be provided across the site to improve the surrounding area and create usable green spaces.
This will help build a place to live and enjoy, something we know is important to local residents and the benefits of which have been emphasised from the COVID-19 outbreak, too.
Proposals include trees, shrubs, hedge planting and benches, with each dwelling benefitting from well-sized gardens.
Shared open spaces will provide residents with a place to be active or sit and rest. Seating areas will be positioned to take advantage of the views.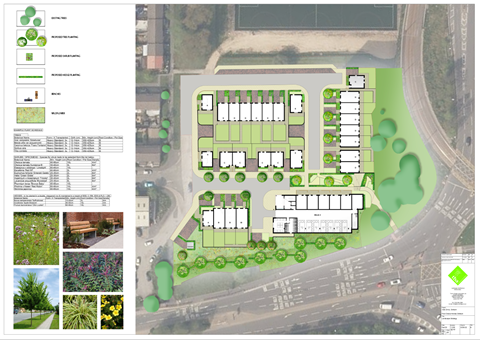 As well as creating amenity space and landscaping at the site, we are proposing to include a dedicated play area on land at Broome Street. This is well located so as to be accessible by future residents and will also provide for opportunities for existing local children to play.
The proposed open space will be made up of an equipped area play of approximately 10 elements and will be surrounded by soft landscaping features, including hedgerows and security fencing. An indicative plan of the playground can be found below.
The proposed play area will be accessible to the whole community.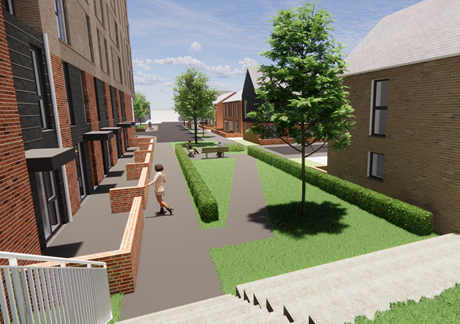 Find out more about West Vale
Located close to Oldham town centre, West Vale is set to be our new development right in the heart of Oldham. It will provide a range of high quality, affordable new homes in a vibrant neighbourhood where we want people, families and businesses to thrive.
Our plans to demolish Crossbank House and Summervale House tower blocks have been approved by Oldham Council and we have appointed Oldham-based contractor, D Hughes Demolition and Excavation Ltd to lead the demolition and clearance work. This is anticipated to take place May – November 2021, and throughout this period we'll keep local people updated on our progress.