FCHO saves the day! Customer Felix joins our Property Care department after losing his job during coronavirus
---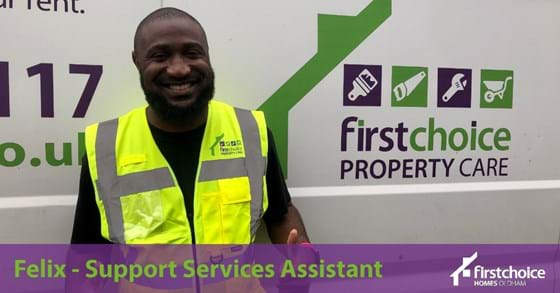 After our customer Felix found himself redundant due to coronavirus, he desperately needed help to find a job and keep food on the table for his three children and a roof over their head.
With support from our Directions Employment Support Service and Income Collection team, Felix was successful in securing a job in our very own Property Care department. Felix has been recruited to the post of Support Services Assistant for an initial three-month period and will offer valuable assistance to what is a very busy department.
What will be your role here?
My role is Support Services Assistant – Property Care. I undertake a variety of duties involving FCHO's plant and equipment, fleet, the day-to-day smooth running of services from our Primrose Place offices and also assisting with our Wolseley contract.
What's your background?
I came to Oldham three years ago when I moved up from London. I live in Alt with my wife, Aderonke, and our three children aged eight, three and eighteen-months. I've certainly got my hands full at home, I am always busy! London was super expensive and as my family was growing, I wanted to relocate to somewhere where living expenses weren't quite as high to, give them a better life.
Employment-wise, I've worked in lots of customer service and sales roles. I was recently made redundant in July as a result of coronavirus so I needed to get a job quickly to support my family.
How did FCHO help you into work?

I am a customer of FCHO so I called the Income Collection team when I learned of my redundancy to let them know that I might struggle to pay rent because of my situation. They were really helpful and immediately referred me to Directions, the dedicated employment service at FCHO.

Employment Advisor Leah came to my aid and got to work straight away to try and find work for me as quickly as possible. Leah's support was wonderful. She helped me to modify my CV and assisted me in applying for roles with other companies. Soon, a job at FCHO came up and here I am.
Interesting fact about you?
I am friendly and approachable and love to learn new stuff. This job is different from what I have done before but I see it as a chance to learn new skills and I am excited for the challenge.
A bit about you:
Favourite film/song/book: 

The Twilight Saga are my favourite films and my favourite band is the Backstreet Boys. We played them at our wedding so whenever I have anything important to do, I'll listen to the Backstreet Boys to spur me on. I am not much of a reader but I have just finished 'A Game of Thrones' by George R R Martin which I really enjoyed.


Favourite food:

It has to be my local cuisine, Jollof Rice. It's a classic Nigerian dish made up of rice, tomatoes, chopped beef and mixed vegetables. It's very spicy and simply delicious. If you've never tried it, you're missing out!


Holiday:

My favourite holidays are when I take my kids back home to Nigeria. They absolutely love it. We try to take them once every couple of years to see their family and learn about their origins. My mum and dad live over there as well as two of my elder brothers. I have another sister and brother who are living in Canada, so we try to get over there to see them when we can as well.                          


Weekend chill activity:

Watching football. I don't support any particular team but I enjoy watching any Manchester team. I just love football in general so I'm happy watching any game!
So, if you're one of our customers and you've lost your job due to coronavirus, or are struggling to find work, training or volunteering opportunities, our Directions team is here to support you!
They offer a friendly, non-judgemental service and can help you to get back on your feet if you're having a hard time of it.
For more information and contact details, visit our Directions pages.